Engage in the
Life - Joy - Work
of the church
Multi-Generational Activities
You can only build relationships through time together - so you are encouraged to engage in what is happening at ERC. Some activities are focused on YOUTH, and some are more designed for ADULTS, most of what we do together at ERC are activities and events which are great for all ages. It is what a healthy spiritual family looks like. Our mission fundraising dinners held throughout the year are a great example. Whether it is a toddler in a highchair, a teen serving food, a volunteer working in the kitchen, or a senior inviting their neighbors to a great meal - we can all be involved, build relationships, connect with the community, and do good. Sunday morning worship is the start of our multi-generational focus, with a variety of music, all ages welcome in the service, and a mix of old and new. Beyond that service, there are many ways we are church together - here are some highlights...
Together we can accomplish what may seem impossible for us - but with God, all things are possible
Coffee Time
Join us for a time of gathering and getting acquainted following Sunday morning worship.
The Gathering
Saturdays at 5:00 p.m. is a half hour of prayer and singing to prepare for Sunday morning worship. Come praise God and pray for each other, the church, our community, and the world
Dinners/Sunday School Picnics
Periodic gatherings for all to enjoy fine food while we fellowship in a relaxed atmosphere.
Advent Program
Sunday afternoons or evenings during Advent are a special time for the church family to prepare together for the celebration of our Lord's birth. Come for a light meal and program.
Special Projects
Throughout the year you can get involved in collecting items for a special appeal such as helping to stock the shelves of The Anchor Food Pantry, making a meal for the Interfaith Partnership for the Homeless, pack a shoe box for Operation Christmas Child, or raise funds by walking to support the efforts of Church World Service as we walk with others in the CROP Walk where 25% of the funds comes back to the Anchor Food Pantry. These are just a few ways to impact our world both near and far.
Or perhaps you are more interested in putting your skills to work and help out with maintaining the grounds both inside and out or going on a mission trip to the far reaches of India.
Events at ERC are a great way to connect with others, make friends, and discover that church is much more than a worship service on Sunday morning - it is community.
A big part of the fun of church dinners happens in the kitchen.
ERC serves dinners throughout the year.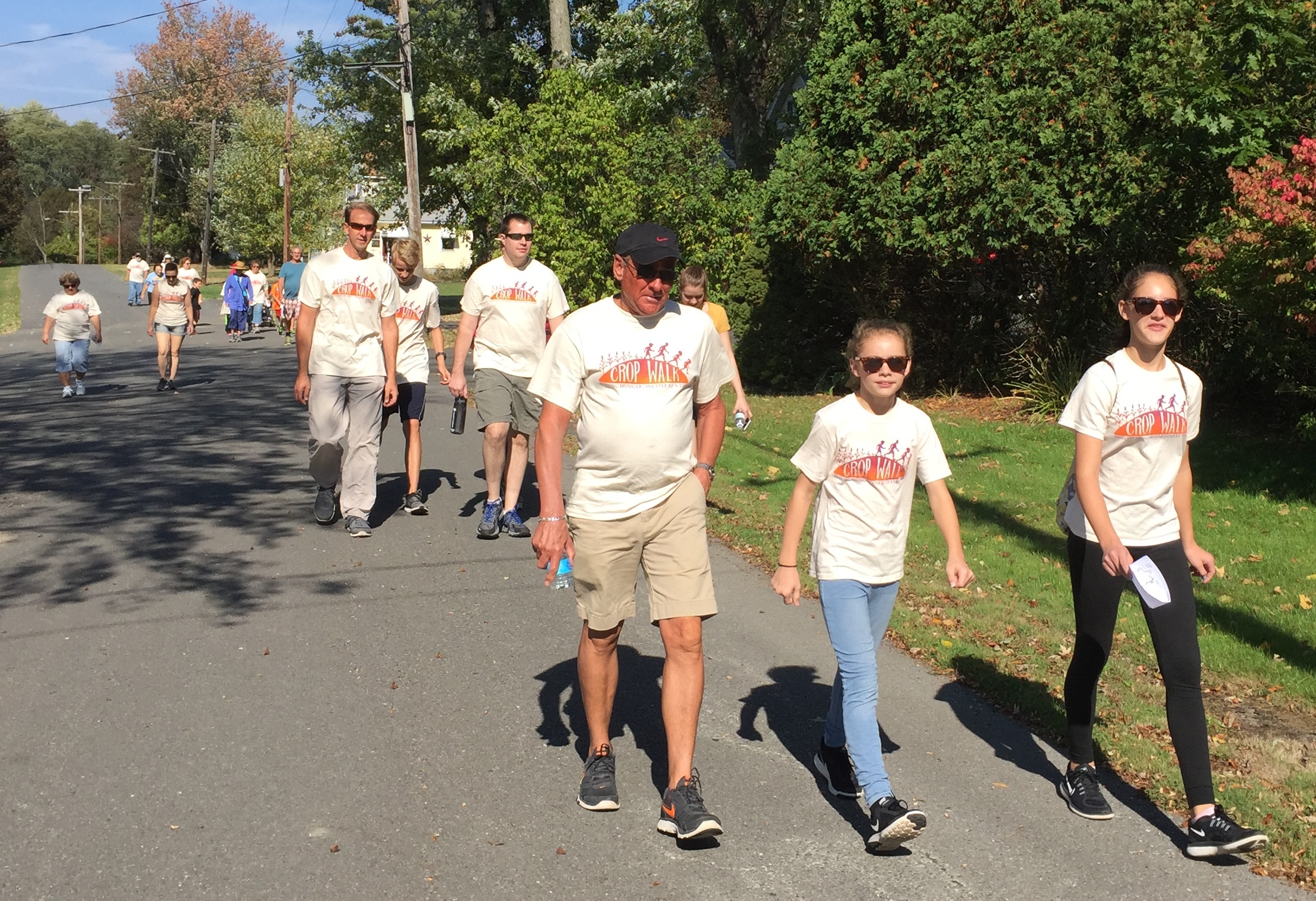 Getting acquainted as we walk to feed the hungry of our community and the world